Harishchandra Ghat filled with devotees to celebrate Chita Bhasma ki Holi with Baba Mashan Nath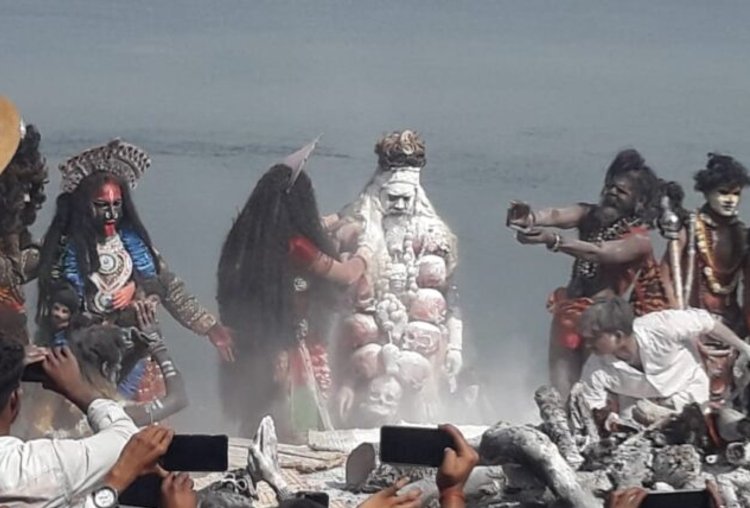 On the occasion of Rangbhari Ekadashi on 24 th March, Chita Bhasma ki Holi was celebrated and the Shobha yatra of Baba Mashan Nath was also conducted. Many devotees participated in the event as this annual event was celebrated. The events started from the Shobhayatra of Baba Mashan Nath and then ended with the Chita Bhasma ki Holi.
Chita Bhasma ki Holi is an event that had taken place for years and the worshippers of Lord
Shiva carry and respect the tradition even today. The Shobha yatra of Baba Mashan Nath was
also conducted as part of the festivities.
Shobha yatra and events
The Shobha yatra began from Baba Kinaram Sthal in Ravindrapuri where various devotees
walked all the while singing praises and playing instruments. The chanting could be heard from
far away as the devotees celebrated the event with joy and praised Lord Shiva.
From Baba Kinaram Sthal, devotees crossed IP Vijaya Road, Bhelupur Police Station, Sonarpura
and ended the Shobha yatra at the Harishchandra Ghat. Many dignitaries like the Chief
Secretary of the UP Chief Minster's Office in Lucknow Rajan Shukla, Harshit Skula, Nidhi Dev
Agrawal, Pawan Kumar Chaudhari, Keshav Jalan, Bahadur Chaudhari and many more were
present.
Proceedings of the Holi celebration
Chita Bhasma ki Holi was celebrated after the conclusion of the Shobha yatra of Baba Mashaan
Nath. Similar to the previous celebrations, many devotees could be witnessed across the venue
doing the Shiva Tandav, chanting mantras to worship Lord Shiva and shouting praises of the
lord while celebrating the Holi. A few devotees also wore a garland of human skulls to celebrate
Baba Mashan Nath as part of the old traditions.
After playing the Holi, some of the devotees also took a dip in the holy river, Ganga and bathed
in the water to cleanse their body and soul as part of the rituals.
History and significance of the rituals
Many rituals like the Chita Bhasma ki Holi have been celebrated in the city for a very long time.
Varanasi is one of the oldest cities in the world and the people still appreciate and keep alive
the traditions that were followed by their ancestors.
The scene displaying this was visible during the entire duration of these rituals and the people
once again proved their devotion towards Lord Shiva.