Street Food in Varanasi: A Visitor's Paradise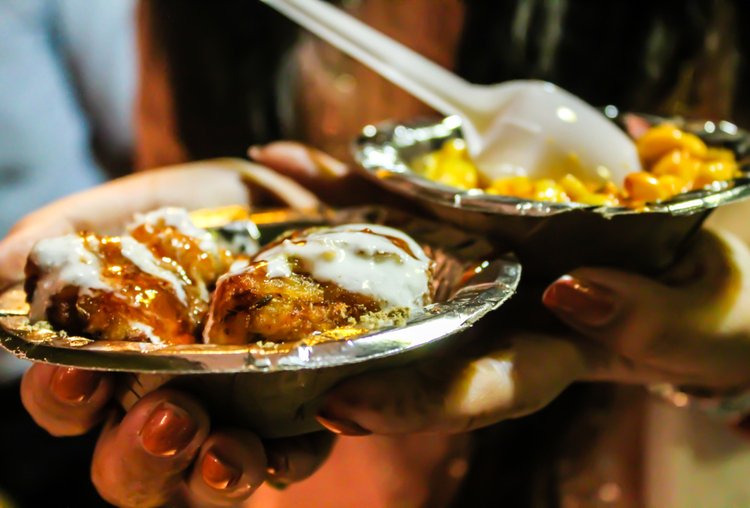 Varanasi is the abode of Lord Shiva, a city that holds so much history and culture and still reflects the traditions that it was built on. The city in itself is the dream location for travellers in India, but alongside that, street food in Varanasi is unique and yummy.'
The rich culture of Varanasi has also given birth to some of the most delectable dishes, especially street food, which is a huge hit with everyone. The unique flavours and textures of the dishes will make you exclaim in wonder. This list will cover some of the best street food in Varanasi and where to find them.
Foods in Varanasi
Though not all of these dishes originated in the city, Varanasi's version of some of these dishes is a huge hit with both locals and visitors. Here are some of the top foods in Varanasi:
Kachori Sabzi and Jalebi- An ideal breakfast combo!
One of the most popular and sought breakfast item in Varanasi, Kachori Sabzi with Jalebi is the accurate representation of the culture of the city. Fluffy fried kachoris made from a multigrain dough, alongside a flavourful veggie stew with vegetables, cottage cheese and more make the perfect filling breakfast item. Add some jalebis to finish with a sweet flavour.
This dish is not just a food item, it is a whole experience to get up early in the morning to witness the sunrise and satiate your hunger with some Kachori Sabzi and Jalebis.
Price Range: Very Affordable
Best Enjoyed as: A breakfast item
Where to find it?
Here are the places for Kachori Sabzi in Varanasi:
The Ram Bhandar, Govindpura- This store has been in the city for a very long time and still offers delicious Kachori sabzi and jalebis every day. The shop is one of the favourite destinations of locals and though it is a little hard to reach, the food there is worth it.
Shri Krishna Bhandar, Maldahiya- Located in an alley just off the main road, this small shop offers great Kachori Sabzi, that too at a reasonable price.
Banarasi Chaat- A medley of flavours!
Banarasi Chaat is undoubtedly one of the most famous street food in Varanasi due to its unique flavour profile and availability. Though chaat is available in UP in abundance, there is something unique about Varanasi's version of it that is very different from all others.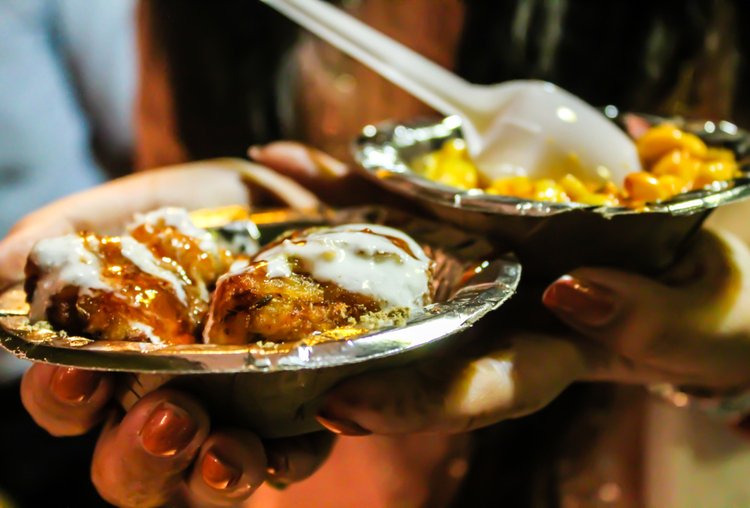 From crispy golgappas filled with creamy white peas and savoury seasoned water or sweet curd and chutneys to potato tikkis topped with various delicious toppings, chaat truly is packed with different flavours. You will get to experience sweet, sour, savoury and salty flavours all at the same time with varying textures as well. This is one of the best foods in Banaras.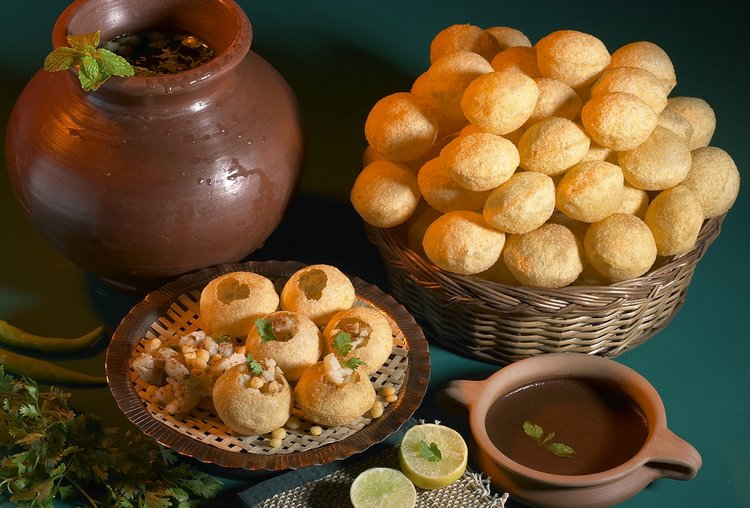 Price Range: Very Affordable
Best Enjoyed as: A snack/For dinner
Where to find it?
Here are the places for Chaat in Varanasi:
Deena Chaat Bhandaar, Luxa- Opposite the PDR Mall, Deena Chaat Bhandar is one of the most popular destinations for chaat and for good reason too. The place has been offering delicious chaat dishes for a very long time and their quality is still as good.
Vishwanath Chaat Bhandar, Vishwanath Gali- While walking through the Vishwanath Gali, you will easily be able to spot this store which is always bustling with activity. The store offers delicious chaat and you must try their golgappas while you are there.
Baati Chokha- The reminiscent taste of togetherness!
Though this dish originated in Bihar, it is a famous food in Varanasi and is frequently eaten by locals and tourists alike. The dish includes spiced gram flour stuffed dough balls that are roasted directly over a flame, served with a spiced roasted eggplant chokha and other side dishes.
This is a heavy meal and is often enjoyed as lunch. It also holds historical and cultural importance as making this dish often meant the getting together of family members to create and enjoy it. It is traditional and truly represents the culture and flavour palate of the people here.
Price Range: Moderately Price/ Expensive (Depends on where you are having it)
Best Enjoyed as: Lunch/ Dinner
Where to find it?
Here are the places for Baati Chokha in Varanasi:
Baati Chokha Restaurant, Teliyabagh- Placed atop a busy road, this restaurant offers delicious baati chokha and has one of the most soothing ambience and décor. The décor is heavily inspired by the houses in villages and it is a great spot for enjoying this dish, even though it is costlier here.
Loha Mandi Stalls- Various individual stalls are littered across Loha Mandi that offer a more affordable and casual version of the dish. You can go to any stall and order the dish to enjoy it in a more rustic form.
Malaiyo- An edible cloud-like wonder!
This is hands down one of the most fascinating dishes and street food in Varanasi and one which you can only find in the UP. Though recreations might be available in other cities, the original is superior in quality and flavour alike.
The sweet dish is prepared by boiling milk and cream together, then it is left overnight, exposed to the natural dew. After that, it is churned and flavoured with sugar, cardamom, saffron, etc. Its texture is light and foamy and it will disintegrate in your mouth as soon as you take a bite. It is perhaps the closest thing you could imagine eating a cloud would feel like, one of the best desserts in Varanasi.
Also Read: Malaiyo Varanasi: The Yummy And Delicious Winter Dessert
Price Range: Moderately Priced/ Expensive
Best Enjoyed as: A snack/For dessert
Where to find it?
Here are the places for Malaiyo in Varanasi:
Shreeji Sweets and Milk, Markandey Sardar, Chaukhamba- One of the oldest stores that serve this dish, Markandey Sardar is a great place to enjoy authentically and freshly made Malaiyo. Apart from Malaiyo, you can enjoy various other desserts and drinks too.
Pakka Mahal Sweet Shops- Though most sweet vendors in the city prepare this dish, the sweet shops and stores in the Pakka Mahal area have been making this since its origin days and you can get the most authentic version there. It takes such a long time to get ready, well over 8 hours, but the one-of-a-kind texture and flavour make it an enjoyable dessert that you can enjoy at any time.
South Indian Cuisine- The fusion of the two ends of India!
Yes, South Indian cuisine did not originate in Varanasi, but it is surprisingly one of the most popular street food items that locals adore. The dishes in Varanasi have a flare of the North Indian style of cooking to them but the base recipes and concepts are from South India.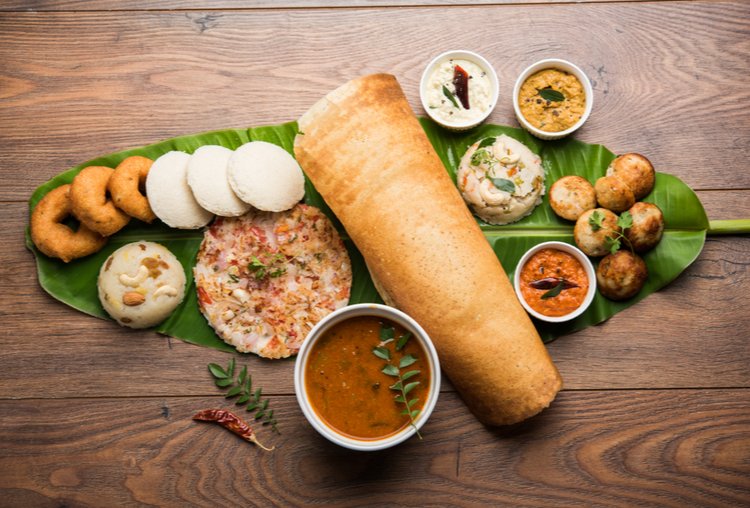 Idli Sambar is steamed rice cakes accompanied by a spiced lentil curry as well as coconut chutney. Dosa is a thin crepe made of rice or lentils served with sambar and chutney as well. These dishes are very diverse both in flavour and texture profiles and each interpretation varies in flavour. South Indian cuisine is a great option to try.
Price Range: Very Affordable/ Moderate (depending on where you are having it)
Best Enjoyed as: Can be enjoyed as any meal
Where to find it?
Here are the places for South Indian food in Varanasi:
Annapurna Restaurant, Ramkatora- Just a few hundred metres into Piplani Katra, this restaurant combines modern dining with delicious South Indian food. The restaurant is the perfect place for a night out and though there are many other food options there, their signature dosas are a must-try item if you ever visit.
Khambe Wala, Sigra- Just off the main road in Sigra, this shop is a small snack shop with casual seating offering a variety of dishes. The best of these, however, is their idlis and vadas accompanied by sambar and delicious creamy chutney. The setup is quite casual and great for having a snack in the evening.
Bonus – Paan- The oldest palate cleanser!
Not exactly a dish, but a palate cleanser or mouth freshener of sorts, Banarasi Paan is one of the first things you will hear associated with the name of the city. Paan is essentially chuna, betel nuts and some other ingredients stuffed and wrapped inside fresh betel leaves.
The product acts as a mouth freshener and stimulant. Though versions containing tobacco and betel nuts are harmful to health, non-tobacco versions are safer to consume. This is a unique item that originated and was loved across Asia and is still a part of the culture of the city now.
Price Range: Very Affordable
Best Enjoyed as: A mouth freshener
Where to find it?
Paan shops are littered all across the city and you will have no trouble spotting one from afar as you can immediately see green betel leaves spread upon red cloths. You can have a Banarasi Paan with tobacco or get one without it to enjoy the refreshing flavour. It is a palate cleanser and is best consumed after meals. These shops of Paan in Varanasi offer both versions at a very affordable price so do try this unique item.
Conclusion
Varanasi is a city that is very culturally diverse and thus, has some of the most delicious food and snacking options. A journey to a place includes exploring the place's cuisine and to make your search for the street food in Varanasi easier, we have compiled this list.
We hope the list has been helpful and you will give a try to some of these scrumptious dishes once you visit the holy city.
Frequently Asked Questions
What is the best place for street food in Varanasi?
A: Many areas like Sigra, Lahurabir, Chauk, etc. are great hotspots for street food.
What are some good restaurants in Varanasi?
A: Some great restaurants are Sunrise Restaurant for Indian/ Continental Cuisine, Ming Garden for Chinese Cuisine, Annapurna Restaurant for North Indian/ South Indian Cuisine, etc.
Are there non-vegetarian options in restaurants?
A: Though a majority of dishes are vegetarian, many restaurants and snack shops offer non-veg items on their menu too.
Is dining expensive in Varanasi?
A: Food is quite affordable if you are having street food from stalls, however, restaurants offer pricier versions of the dishes as well.
Is the food very spicy?
A: Food in Varanasi does have some heat to it, but you can ask for lesser spicy options while you order.