Masan Holi Varanasi 2022: An Amazing Holi Celebration at Mahashamshan Varanasi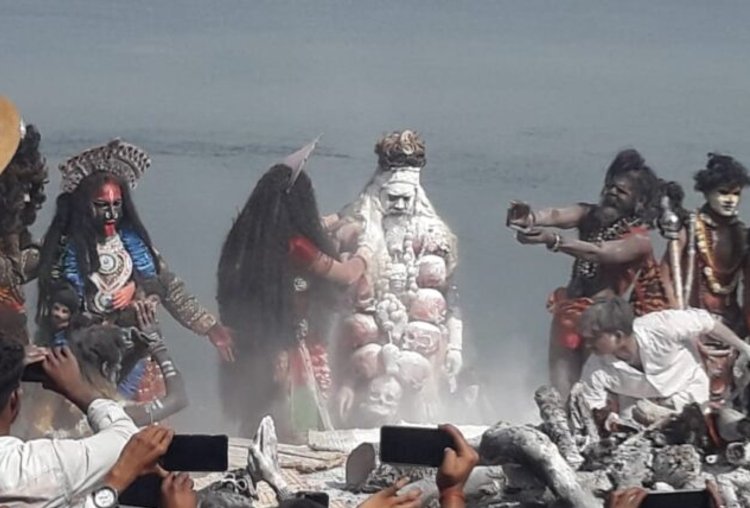 The religious capital of Varanasi lies in the center of the valley of the Ganges in North India. This city is full of unique and mysterious places. There is the famous Kashi Vishwanath temple, then Mahashamshan, where the funeral pyre never dies. People celebrate Masan Holi Varanasi 2022 at Manikarnika ghat, popularly known as Banaras ka Shamshan Ghat.
Also Read: Masan Holi 2023: The Grand Celebration at mahashamshan varanasi
Chita Bhasm Holi 2022 is a Unique Concept
People of Kashi gather at Manikarnika Ghat to celebrate Chita Bhasm Holi 2022. It is a very auspicious occasion for all the Aghories, sages, and Nagas. As per the belief of our Vedic scripture, the phantoms, ghosts, and all such Shiva devotees gather on the Manikarnika ghat to celebrate Holi 2022 with their deity Shiva.
Read in detail about Chita Bhasm Holi.
Why is Masan Holi Varanasi 2022 celebrated?
To understand the real reason to celebrate Holi with a funeral pyre, let us first understand what Chita Bhasma Holi is?
Shiva devotees range from the spiritual person or householder to Aghoris and Nagas. The Ghost phantoms are different from our social structure.
Therefore, it is a belief that Shiva travels to Manikarnika ghat in Varanasi to celebrate Holi with them.
Also Read: Mysterious Places to Visit in Varanasi: Stairways to Faith, Trust and Belief
Masan Holi Kashi – A Distinctive Local Tradition
Now, the question arises how do people celebrate Masane ki Holi Varanasi? There is a temple of Mahashamshan Nath at the cremation ground in Varanasi, where people offer prayers to the Lord of Shamshan Ghat. They then resonate with 'Har Har Mahadev' and dance on the folk song to reach the area where there are burning dead bodies.
By this time, excitement fills the atmosphere of this place, and these particular devotees of Shiva start throwing pyres of the burning funeral on each other.
"I have planned my trip to Varanasi especially to witness this one and only Holi celebration 2022. I have heard that only in Varanasi do people play Holi with funeral pyre at the cremation ground.'' One of the tourists who traveled to Kashi is found saying.
A resident states, "Kashi is the city of salvation, and we believe Mahadev himself give Tarak Mantra here. Therefore, we celebrate death as Holi festival by throwing funeral pyre on each other.''
"The Shiva devotees and Ganas take the blessing of happiness, prosperity, and liberation of soul at Chita Bhasm Holi. The Ghats and street reverberate with 'Har Har Mahadev.' "Gopal, another resident near Manikarnika Ghat says.
Know about Rang Bhari Ekadashi.
Masan Holi 2022 Date
Varanasi people will celebrate Rang Bhari Ekadashi on March 14th, 2022. Therefore, after this Holi of Baba Vishwanath, on March 15th, 2022, people will celebrate Masane ki Holi in Varanasi.
Also Read: Lesser-Known Temples of Varanasi: Rejuvenate and Explore Their Divinity