Muslims and Hindus celebrate Mahashivratri together, set an example of communal harmony for the nation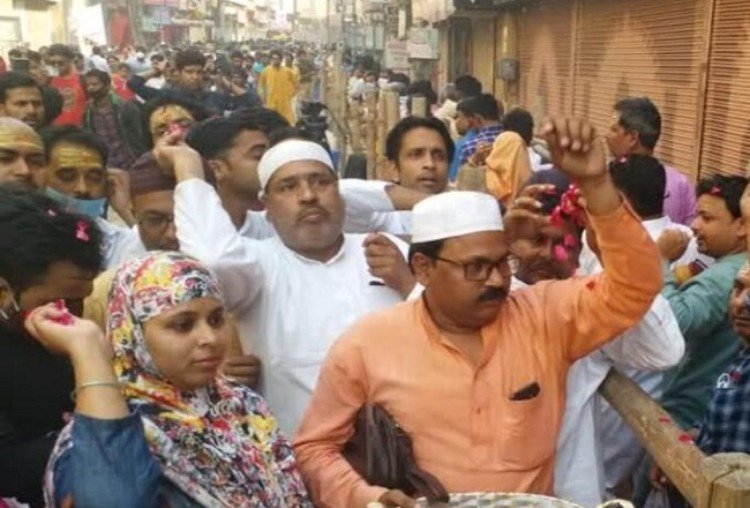 Varanasi is well known for being one of the religious hotspots in the nation. The city witnesses an abundance of festivals throughout the year celebrated by various religions and is famous for it as well. A beautiful scene was witnessed at the occasion of Mahashivratri in  Varanasi, where Muslims showered flowers and joined in on the celebration with Hindus.
The festival is celebrated by Hindus and celebrates the eradication of darkness and ignorance from the world as well as enlightenment. Varanasi, also known as Kashi, is known to be the city of Lord Shiva and has always celebrated search occasions with great excitement.
Amongst all the events of the past including various communal differences between the 2 major religions of the citizens of India, this has always been a sensitive issue to touch upon. But the citizens of Varanasi, once again, showed that all religions walk hand in hand towards enlightenment and are supportive of each other for doing so.
During the occasion, various Muslim people showered various flower petals onto the devotees that were praying to Lord Shiva as an act of Brotherhood. The people said that they wanted to honour the 'Ganga-Jamuna Tehzeeb' which was passed down and depicts that the difference of religion does not cause division between the people, it only makes their bond stronger. The tehzeeb depicts the long history of both Hindus and Muslims coexisting with each other in the holy place and respecting their religions.
This is not an uncommon happening in the city, however, because the people of Varanasi are very close-knit and their religions, though different, don't get in the way of them being close to each other. Throughout the year one can experience various people of various religions celebrating the popular festivals of all religions like Diwali, Eid, Christmas, etc.
Such a society sets an amazing example for not only the nation but for people all around the world to come together to celebrate occasions with each other regardless of their religious or caste differences.