Chita Bhasm Holi : An Unique Holi in Varanasi With Ash Pyre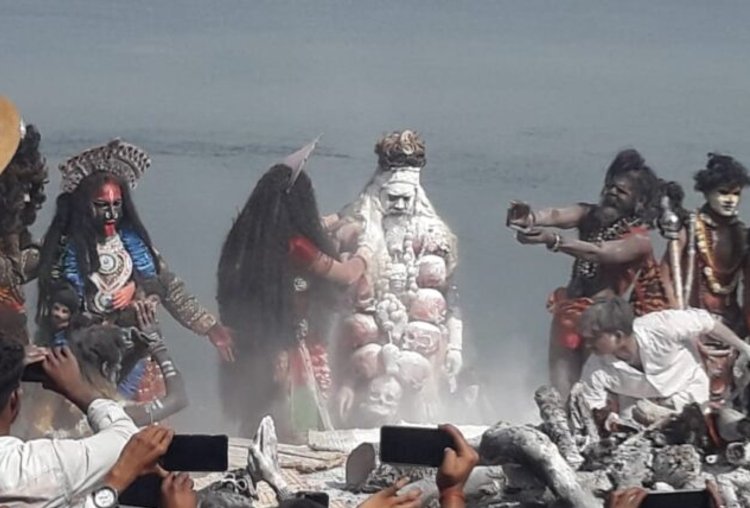 The vibes, customs, traditions, and people combine to weave a colorful and distinctive picture of Kashi. Kashi, as the name itself indicates, is a place of value. Every tradition and culture is celebrated in style and with a difference. The same is the case with the most colorful and favorite festival of Lord Krishna: the Holi festival. But Varanasi celebrates this beautiful festival in another dimension as Chita Bhasm Holi.
How is Holi celebrated in Varanasi? Is there any other way to celebrate Holi in Varanasi?
Unequivocally there is a unique way of Holi celebration. Sages, Aghories, Nagas play Holi at the cremation ground with the pyre ash. Are you astonished to read? But it is a fact, and locals and outsiders enjoy this tradition with faith and excitement.
The city of Varanasi has many enchanting mysteries. One of them is the Kal Bhairav Mandir.
The Legend of the Legendary Holi Celebration
What is Chita Bhasm Holi? Or what is Masan Holi?
People play Chita Bhasm or Masan Holi at the cremation ground in Varanasi. Though they play it with the ashes of the departed souls, why is Masan Holi celebrated?
As per the scriptures of Skand Purana, Rang Bhari Ekadashi is the Holi of Shiva's devotees. This celebration is their expression of happiness and a token of gratitude for Lord Shiva and Devi Parvati. They mark this occasion as the coming of Shiva along with Mata Parwati to Varanasi. Shiva's devotees also include ghosts, invisible energies, phantoms, and spirits? They could not come among the ordinary people to celebrate Holi with their deity. Therefore, the Lord travelled to Mahashamshan to play Chita Bhasm Holi with them.
From time immemorial, the ascetics and saints have celebrated this awesome Holi. Now, this age-old tradition is carried by ordinary people too.
Also Read: Rang Bhari Ekadashi: Kashi Welcomes Shiva With Colours
Holi Utsav at Shamshan- Belief Behind It
Mythologically, every soul revolves in and out of the life and death cycle. They take birth in one physic, leave it upon death and then go inside another physic. It is a vicious circle of life, which means that all our souls revolve inside this life and death cycle. But at the bottom, every soul desires salvation and freedom from the circle. They want to become free from re-birth. Therefore, Chita Bhasm is the occasion to celebrate death in the aspiration of liberation.
Varanasi is the home of famous and religious temples, read about them.
Chita Bhasm Holi Rituals at Varanasi Shamashan
Before starting this memorable Holi in Varanasi, the devotees offer prayers at Mahashamshan Nath temple's cremation ground in Varanasi. It is the temple of Lord Shiva, the Lord of the cremation ground at Varanasi.
Firstly, devotees worship Shiva at the said temple and offer Him Bhang, Ganja, and Madira.
Secondly, they gather at the bank of the holy river Ganga with musical instruments to create an exciting and festive atmosphere. The musical vibes and complete devotion fill the surroundings with excitement.
Thirdly, devotees collect ashes from the burning pyre and throw them gently into the air. Then with the building excitement, they start celebrating this Holi feverishly and fill the entire Manikarnika ghat with ashes.
It is a fascinating sight for people all around the world. This Masan ki Holi holds a kind of contrast within itself. It also delivers a very subtle message:
Before birth, we were without a body, and after death, our body converts into ashes. Therefore, instead of spending our life after worldly things, seek the real purpose of life worship Almighty.
Also Read: Dev Deepawali in Varanasi- A Unique Festival of Lights
Chita Bhasm Holi Occasion: Date and Place
The celebration of especial and unparallel Holi with the ashes is held only in Varanasi. There is no other place in the world where people play the festival of color with the ashes of the burning pyre. As per the legends, the fire at Manikarnika ghat of Varanasi never extinguishes, and the bodies burnt here attain Moksha. At this Shaktipeeth, the 'Ganas' of Shiva play Holi with Bhasm.
They play this exceptional Holi on the day after the celebration of Rang Bhari Ekadashi, that is the day of Dwadashi of Shukla Paksha of Phalgum month.
FAQs
Q-How to reach Manikarnika ghat?
A-From the airport or railway station, reach Godolia Chowk, from where you have to walk to reach the ghat. You may also reach Dashashwamedh or Scindia ghat and take a boat ride to the ghat.
Q- Can common people see this Holi?
A-Yes, there is an excessive crowd. You will have to find a place for yourself to see Chita Bhasm Holi.
Q- How do people play Holi at Shamshan?
A-They celebrate it with the ashes of the burning pyre.