Best Sweets and Drinks in Varanasi (Banaras)
Varanasi is a city that is rich in culture and an ideal destination for travellers. All the temples, monuments, historical places display the rich history of Varanasi. It is one of the oldest cities in the world and a religious capital. With all that, Varanasi also has amazing foods. From street food to sweets and drinks in Varanasi, there is nothing that you cannot find in the city.
Banarasi Sweets are quite popular among tourists due to their unique flavours and textures, so are the refreshing drinks found in the city. Especially in the summer season, you can find sweets and drinks in Varanasi in abundance.
Summer Foods in Varanasi
Here is a list of the best summer foods in Varanasi perfect to enjoy on a hot sunny day:
Kulfi – A frozen Banarasi delight!
One of the most refreshing sweets in Varanasi, Kulfi is authentic Indian ice-cream that is made with milk, cream, saffron, nuts and other components. The milk is flavoured and reduced by cooking, then mixed with nuts and other ingredients and put in moulds to freeze. Kulfi is different from ice-cream as it is much more flavourful and creamy since it is not whipped like ice-cream.
It is traditionally served with thin sweet vermicelli noodles called falooda in Varanasi. It is like a local ice cream and people enjoy it after roaming the streets and ghats on a hot day to cool off.
Price Range: Moderately Priced
Category: Dessert
Where to find it?
Here are the places for Kulfi in Varanasi:
Anamika Kulfi, Sigra- One of the most famous spots for kulfi, Anamika Kulfi is a crowd favourite.
Amul Store – Amul has the most premium quality dairy products and sweets and drinks in Varanasi and you can easily find an Amul store or stall nearby.
Lassi & Thandai – Cool and refreshing beverages!
Lassi is a yoghurt based drink that has both sweet and savoury interpretations. It is originally from the Northern states like Punjab, Haryana, etc. Also called buttermilk, Lassi is made by whipping yoghurt and adding sweeteners, salt, water, spices and other flavouring agents. In Varanasi, the sweet version is more popular. The drink is sold in two very popular places in Varanasi and is loved for its richness.
Thandai is also a drink enjoyed in summer, prepared by mixing milk, sweeteners and flavouring agents like saffron, rose water, etc. It is less heavy than Lassi since it is made from milk. There are plenty of flavour variations and you can get a Bhang added version during the Maha Shivratri festival, which is an important part of Varanasi's culture. Bhang is an intoxicating cannabinoid so try it only if you can handle the after-effects.
Price Range: Affordable/ Moderately Priced
Category: Drinks
Where to find it?
Here are the places for Lassi in Varanasi, as well as for Thandai in Varanasi:
Shiv Prasad Lassi Bhandar, Ramnagar Fort- They sell undoubtedly the best Lassi you can find in Varanasi. Make sure to visit before evening though they sell out quite fast.
Blue Lassi, Kachaudi Gali – A tourist favourite spot at a short distance from the Kashi Vishwanath Temple where you can find thick Lassi flavoured with seasonal fruits.
Godowlia Crossing Stalls – Thandai is available in all areas in the city. But the stalls at the Godowlia Crossing offer the most authentic flavour.
Rasmalai – Soft and succulent cheesecakes!
Rasmalai is a traditional Indian dessert that is most popular in North India. The dessert consists of velvety soft cheese balls soaked in flavoured and sweetened milk. The texture of the dessert is soft and tender and the dish is mostly served at room temperature or cold, making it perfect for a hot day.
The milk is curdled with an acidic component like lemon juice to make chhena balls that are then cooked and soaked in a milk and cream mixture that is infused with saffron, sugar and nuts. Rasmalai is one of the most famous sweets of Varanasi due to its flavour and Varanasi's interpretation of the dish is popular amongst visitors too.
Price Range: Moderately Priced
Category: Dessert
Where to find it?
Here are the places for Rasmalai in Varanasi:
Ksheer Sagar, Sigra – Being one of the oldest confectionery chains in the country, Ksheer Sagar offers many sweets and drinks in Varanasi throughout the year.
Rajesh Sweets, Vidyapeeth Road – Another chain store selling sweets and snack items, this shop is also a great place to enjoy Rasmalai.
Aam Panna – A cooling drink with healing properties!
Panna is a seasonal drink only available during the summer months in the city, made primarily from raw mango. The raw mango as well as roasted cumin seed powder retains nutrients and hydrate the body, fighting against the intense heat. The drink also helps with digestion and restores nutrients lost in the heat through sweating.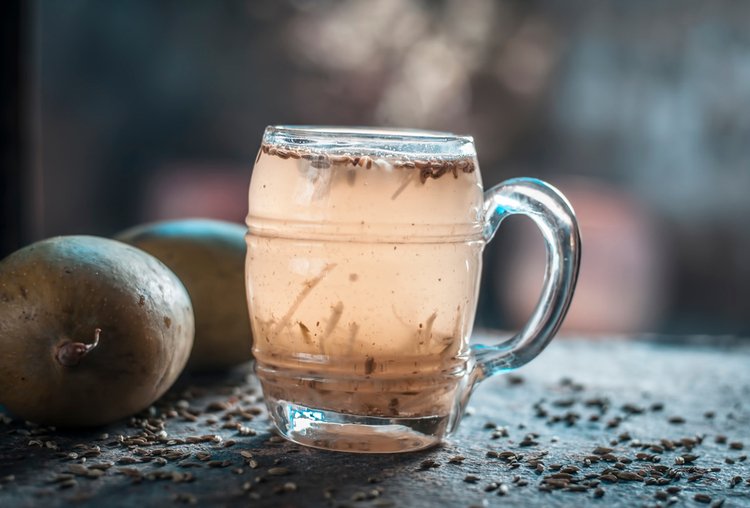 The raw mango pulp (sometimes the mango is boiled before grinding) is mixed with an assortment of spices, herbs and ice. Varanasi has scorching summer months where temperature crosses 40° C and on these days such replenishing drinks are a must to fight the heat. It is one of the most popular drinks in Varanasi.
Price Range: Very Affordable
Category: Drink
Where to find it?
Here are the places for Aam Panna in Varanasi:
Stalls – Since it is a seasonal drink, during the summertime stalls can be seen in popular spots across the city.
Rasgulla – A cloudy and soft sweet treat!
Originating from Bengal, Rasgulla, also called Roshogulla in Bengali, is a traditional sweet made from milk, semolina and sugar alongside flavouring agents. Similar to the making of Rasmalai, chhena is made first and then boiled in a light sugar syrup until the dough is well soaked in the liquid.
The sweet can be served either hot or cold, but in the summertime, most people enjoy it cold. You can even adjust the sweetness according to your preference. Due to its texture and temperature, people of Varanasi enjoy it often on a hot summer day to retain energy and cool off.
Price Range: Affordable
Category: Dessert
Where to find it?
Here are the places for Rasgulla in Varanasi:
Shri Rajbandhu Sweets, Kamachha – This shop is another one of the oldest sweet shops that sells delicious Rasgullas every day.
Bangal Sweet House, BHU-DLW Road – Located slightly farther from the city centre, this shop sells some of the finest Bengali sweets you can find in the city.
Besan Laddu – A dessert from the abode of Hanuman!
Besan Laddu is a sweet that holds a lot of religious importance in the city and is said to be a must-try item. It is a traditional sweet popular in the North Indian States. It is made from gram flour that is roasted in desi ghee, then combined with sugar and nuts and formed into little round balls.
In Varanasi, you can find the best version of it in the Sankat Mochan Mandir, a temple dedicated to Lord Hanuman. The dish is best enjoyed after a visit to the epic temple.
Price Range: Affordable
Category: Dessert
Where to find it?
Here are the places for Besan Laddu in Varanasi:
Sankat Mochan Mandir – The authentic version can be found in the temple shops and this is great to experience the temple and enjoy the sweet too.
Chena Dahi Bada – A refreshing sweet suitable for any course!
An authentic dish that originated from North India, Dahi Badas are versatile and have different variations. The Badas are dough balls formed by fried dough which are then soaked in a rich yoghurt mixture and topped with a variety of toppings.
But the Banarasi version of the dish replaces the traditional urad dal dough balls with chena dough balls that are soaked in dahi instead. This version is most commonly served sweet and cold, topped with chutneys and fresh coriander, making it refreshing and perfect for the summers.
Price Range: Affordable
Category: Dessert
Where to find it?
Here are the places for Chena Dahi Bada in Varanasi:
The Basant Bahar, Chetganj – You can find freshly made Chena Dahi Badas in this shop that has been serving great sweets for years.
Ksheer Sagar, Mahmoorganj Road – This shop serves all of the top sweets in Varanasi and maintain their product quality as well as their signature taste.
Conclusion
Varanasi is a hotspot for foods and offers some of the most delicious items to its visitors. Aside from the street food, the sweets and drinks in Varanasi are also diverse and loved by locals and tourists alike.
Banarasi sweets and drinks are a must-try to experience the best in the city. In hot summers, get yourself one of these treats to fight the heat and enjoy a yummy treat.
Frequently Asked Questions
Are there beverage/drink shops in Varanasi?
There are various traditional beverages available across local stores. Western drinks like coffee and smoothies are also available in stores like Café Coffee Day.
Are there any good bakeries or confectionaries in Varanasi?
Bakeries like Chestnuts and Ferns n Petals offer bakery items and if you are looking for more traditional options you can find them in chain confectionaries like Rajshree Sweets, Ksheer Sagar, etc.
What is the best beverage in Varanasi?
Drinks like Lassi, Thandai, Sharbat and Panna are great summer drinks you can find in Varanasi.