Maria Ruis, a Spanish bags a Gold Medal in Sanskrit at the Sampurnanand Sanskrit University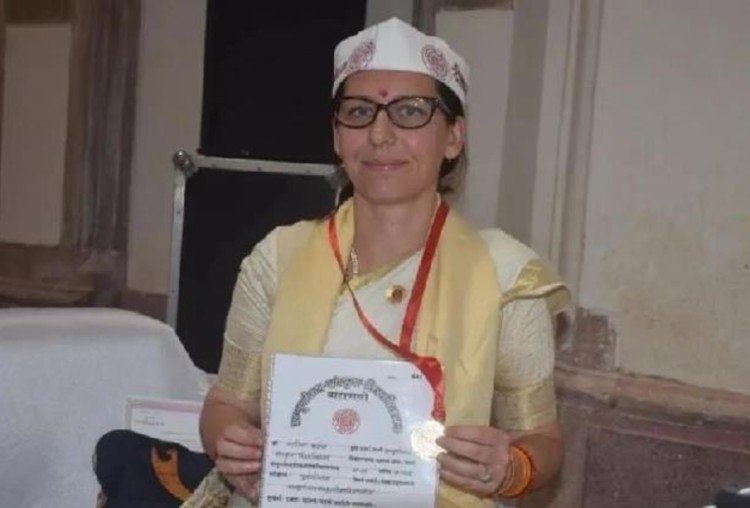 Maria Ruis from Spain has created history during the Graduation Day ceremony of the Sampurnanand Sanskrit University, Varanasi when she topped in the Meemansa stream of the Sanskrit and bagged a gold medal as well. The graduation ceremony was held recently in the city and the chief guest was UP's Governor Anandi Ben Patel.
Maria created history
Meemansa is considered one of the most difficult streams available in the Sampurnanand Sanskrit University. Most of the seats available in this stream remain vacant every year. Still Maria decided to go for the Meemansa. She didn't only continue her studies in the Meemansa but also bagged a gold medal in the stream. Also Maria has become the only woman in the history of the University who has got this achievement in this stream.
Maria left her job
Earlier Maria was working as a air hostess but she decided to leave her job to study Sanskrit, that is also known as 'Devvani' in India. The word Devvani stands for the language used by the God. It was during her India's visit almost 12 years ago she got impressed with the culture of this country.
Maria says, "I visited Varanasi and Rishikesh twelve years ago. I was so much impressed with the culture of this country that after returning to Spain I decided to study Sanskrit. That's the reason why I opted to come to Varanasi in 2012 and take admission in the Sampurnanand Sanskrit University."
The next step
Maria Ruis, who speaks fluently in Sanskrit, she is now planning to get a PhD in the subject from the Sampurnanand Sanskrit University only.
"In Kashi only I understood the importance of Sanskrit. Then I decided to make everyone aware about the specialities of this language", says Maria. Maria Ruis is planning to pursue a career as a Sanskrit teacher. As a teacher she wants to understand the Indian culture and the Sanatan religion deeply.
A true inspiration
No doubt, Maria Ruis is an inspiration for Indian students also as despite of being from Spain or being a foreigner, she has not only studied Sanskrit but she has bagged a gold medal also in the subject.