Nai Sadak Varanasi: The bustling street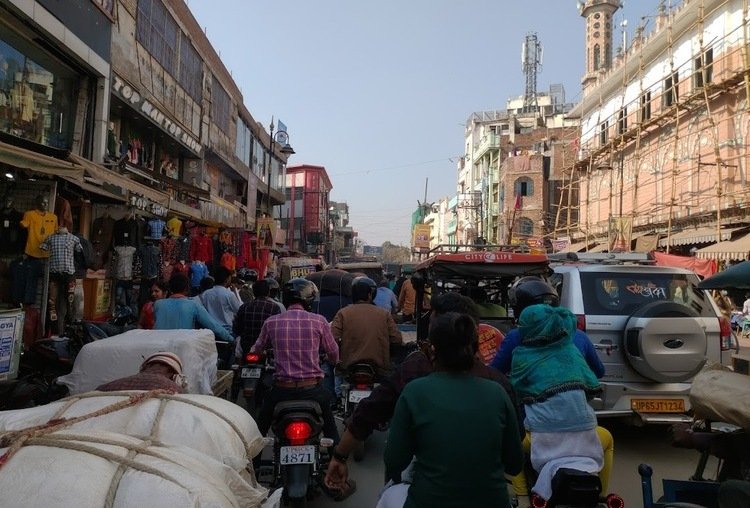 Varanasi is the land of Lord Shiva. However, Varanasi is also known as Kashi where you would find Holy river Ganga. But there is a place called Nai Sadak Varanasi which is at short distance from Ganga.
Now if you are visiting Varanasi and want to explore the joy of Kashi then you need to be at Nai Sadak Varanasi. Don't worry, we are here to provide you with full details. Just don't skip any part.
Why is Nai Sadak famous?
This place connects Dashashwamedh area to Chetganj area. This place is usually crowded as it also connects to the Dalmandi area. By the starting of Nai Sadak road, you can find a masjid called Langde Hafiz Masjid. Then with the end of this road, you will find Raheem Shah Baba dargah.
There are many more to Nai Sadak, so let's jump into them.
Festival and events in the street
Nai Sadak is mostly populated with Muslim community where they celebrate Muharram. The journey starts from different parts of the city and the final destination is Fatman which is nearby Sigra. Now they also celebrate holi in Nai Sadak Varanasi altogether happily and peacefully. One of the other festivals that they celebrate is Eid-Miladun- Nabi which is the birthdate of Prophet Mohammad.
Shopping at Nai Sadak, Dalmandi
Taking a left turn to Nai Sadak, you will find a hustling and bustling market area. This area is the center of attraction for tourists. This area is known as Dalmandi.
Basically, this place is popular for budget friendly yet local and authentic item's shopping.
From raw food materials to dry fruits, to ready made dresses to dress materials, jewellery, makeup and PC, mobile phone related items and the list is unending. In simple terms, Dalmandi, Varanasi has got everything that you can think of. You will find it more crowded in the festive season.
Foods that you can't miss in Nai Sadak
Nai Sadak becomes a much more beautiful place during evening and night time. So, when you visit Nai Sadak, there are some foods to eat near Nai Sadak which are:
Tikki chaat-  Kashi Chat bhandar, located beside Dashashwamedh area.
Golgappe- Chandan Ke Golgappe located right in front of Raheem Shah Baba Dargah.
Malaiyo- Sarawati mishthaan bhandar.
Condensed Milk, Lassi- Rafeeq Lassi Corner.
Masala Tea- Shakeel Tea stall which is located at front of Benia Bagh ground gate as well.
Temple or Monuments nearby
You can find Kul devi mata mandir between the Nai Sadak and Chetganj road.In front of this temple, there is a Dargah of Raheem Shah Baba.There is a famous mosque known as Langde Hafiz Masjid.Shaikh Saleem Baba mazar located at the road of Pan Dariba to Nai Sadak.
Restaurants in Nai Sadak Varanasi
Some of the best restaurant near Nai Sadak Varanasi are:
La Shish restaurant
This is the place where you must have egg roll, chowmin. They prepare these foods with their secret ingredients and you will love the mouth watering food.
Luv Kush Restaurant
If you are vegetarian, you must visit Luv Kush restaurant. You must try Daal fry in Luv Kush. You will order it again and again.
Saffron Restaurant
The next restaurant near Nai Sadak is Saffron Restaurant. Visit this restaurant when you want to have a cozy yet budget friendly meal. This restaurant has a posh look that attracts more guests and the service is really good.
Hotels near Nai Sadak
It becomes much easier to shop and visit the famous Ganga aarti at the same time when you stay near Nai Sadak area. So, in this case you will need to have your rooms in Nai Sadak. These are some of the hotels that you should consider for your stay.
The Royal Crown
Next you will have the option of The Royal Crown which you will find by the main road of Nai Sadak. Here you will have all the luxury facilities that you want for your stay. This is the other restaurant near Nai Sadak that you will find standing out regardless of it's location.
The Green Lodge
If you just want to travel and use the room to sleep only. This might be a perfect fit for you. Budget friendly charges and a sufficient amount of services are there for you.
The Surya Inn
The next hotel in Nai Sadak that we have is The Surya Inn, where you can get a moderate amount of services. While on the other hand you will reach Ganga aarti within 10 minutes. You can find this hotel beside the Saffron restaurant.
Hotel Apna
When you are coming here with your family and want a big fat room, you can always consider having a room in Hotel Apna. Now, they have an excellent service staff and they serve complimentary tea or coffee. Not only this, but you can also use them for a fridge in your room.
Things to do in Nai Sadak Varanasi
Apart from shopping and eating, Nai Sadak offers some fun things as well. You can explore
Benia Bagh ground,

Visit shiva mandir,

Pay a visit to maan mandir as well.
Apart from that, you can find some of the best shop in Nai Sadak which are
Harish Tea leaves shop,

Meraj General confectionery store,

Isa Confectionery store,

Sufiya bakery and confectionery store,

Pannu Paan stall
And, if you are visiting here around the weekend then you must have visited the Sunday flea market, you will be stunned to get the luxurious things at cheap rates.
And if you are a morning person you can visit the Benia Garden area which will give you a soothing feel.
Apart from that, take a ride to Dashashwamedh Ghat where you will have many more options to try new dishes and shop for extra things.
Best Time and Mode of transportation
When you don't want to get a sun tan and get damaged from dehydration then visit Varanasi by Mid of October to December. You will get pleasant weather to travel. Also, use Toto or rickshaw to travel as they are convenient or if you want to make most of your visit, you can choose to walk as well.