Famous Varanasi Streets Tour: Remnants of The Ancient City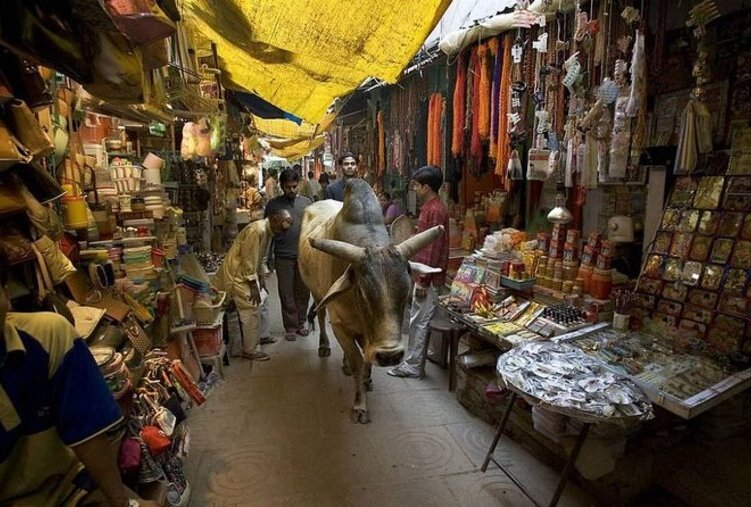 Famous Varanasi streets holding historical buildings and remnants of Varanasi's heritage
For tourists visiting for the first time, famous Varanasi streets are something they must experience. It can help them truly capture the essence of Varanasi's culture. From ancient streets with traditional-style houses to modern roads with high-end places, Kashi has it all in its premises.
As important it is to visit ghats and temples in Varanasi, it is essential to walk through the streets. These narrow pathways will help blend with the public and experience the flow of life in this ancient city. So the next time you visit, leave a day to just walk through the history-filled galis.
Vishwanath Gali
Recently popularized due to the Kashi Vishwanath Temple renovation, Vishwanath Gali is one of the oldest streets in Varanasi. The perfect location of the street places you a walk away from the ghat, stores, and street food stops.
Additionally, due to ideal reviews, Vishwanath Gali is the best street Varanasi has to offer.
Things To Do:
Visit the Kashi Vishwanath Temple
Have chaat in the street food stalls
Drink a refreshing glass of lassi
Visit the local stores for souvenirs
Explore the ancient layout and architecture
Kachaudi Gali
Undoubtedly one of the most underrated places to visit in Varanasi is the Kachaudi Gali. This street has some of the most delicious dishes like Chaat, Malaiyo, and many more street food items.
In this Varanasi street, you can find shops of delicacies starting from the break of dawn to the night.
Things To Do:
Have Kachaudi Sabzi in the morning
Try the popular winter delicacy, Malaiyo
Walk to the Manikarnika Ghat
Nai Sadak
Nai Sadak is one of the most famous Varanasi streets with surprisingly affordable goods like clothes, shoes, etc. Furthermore, you can get all sorts of local designer clothes and other household items here. However, the traffic and congestion are a bit higher here so keep that in mind before visiting.
The affordable clothing items or other souvenirs here are some of the cheapest ones in the city.
Things To Do:
Shop for clothes and traditional clothes
Get toys, stationery, and more at discounted prices
Try out the local cuisine in the stalls
Chowk
Adjacent to Nai Sadak, Chowk is another area of Varanasi always bustling with activity. The Chowk Bazaar is one of the oldest ones in the city with historic shops, near famous places in Varanasi. You can buy many items here and also have delicious food.
Some of the most celebrated and ancient food stalls and apparel stores are placed in this Varanasi street.
Things To Do:
Visit Banarasi Saree Shops
Buy clothes, toys, gifts, etc. at low rates
Have Chaat, Kachaudi Sabzi and other dishes
Assi Ghat & Tulsi Ghat
Some of the most beautiful architecture you will witness would be right by the ghats. The streets leading to Assi Ghat have such architecture are the best places to visit in Varanasi. While shops and vendors are less frequent, you can enjoy architecture and solitude in one of these famous Varanasi streets.
Although, you can find lovely yet quiet streets if you go in through any other ghat too.
Things To Do:
See the sunrise or sunset at the ghat
Take a stroll through the streets in the morning
Eat from vendor stalls situated within the streets
Lanka-BHU Road
While talking about Places to visit Varanasi also has more modern and open areas with stores. Lanka-BHU Road is one such place where you can go to cafes, restaurants, stores, and more. This area is much broader and you can find more modern architecture here.
Similarly, you can experience a more urbanized and posh setup of Varanasi in such famous Varanasi streets.
Things To Do:
Visit one of the Instagram worthy cafes
Shop from the various stores
Visit the Banaras Hindu University Campus
Try out restaurants or street food
Sigra Road
Located in one of the busiest areas in the city, Sigra is one of the most modern and recently developed areas. You can find an abundance of stores, restaurants, and clubs in the area. It is great for a fun night out in Varanasi for a more urban experience.
You can find a fair variety of restaurants and eateries in this Varanasi street if you prefer them over street food.
Things To Do:
Shop at large store outlets like Pantaloons, Globus, etc.
Visit popular chain restaurants like McDonald's, KFC, etc.
Grab some drinks at a rooftop bar
Things to Remember for Varanasi Streets
Visitors, especially foreigners, have a hard time going out in Varanasi on their own. And while it is true that Varanasi is difficult to navigate through, you can follow some tips. These tips will help you find your way and have a better experience.
So if you want to stay away from a four-wheeler and explore Varanasi on foot, you can utilize our tips. Here are a few things to keep in mind to make your journey a bit simpler in the streets of Varanasi:
While visiting streets, ensure that you start with the more known areas to get used to the crowds.
Use google maps or other navigational assistants to know your location.
Don't refrain from asking the locals about something, they will be most willing to help.
Try to use public transport, they will drop you off on these streets sooner.
If you want to visit less popular streets, try visiting the farther ghats and nearby streets.
Conclusion
Kashi is a place where you can witness an ancient civilization far older than any other. But also, you can see the mix of modernization and the ancient ways in this city. This beauty is rare to witness, which is why famous Varanasi streets are an experience one must not miss.
You can walk through the bustling streets while having a hot cup of tea or snacks from a vendor. Otherwise, you could take a walk in the city center and check out the latest stores and restaurants. No matter the destination, your journey through these streets will forever remain an enjoyable memory of your trip.
Frequently Asked Questions
Are streets in Varanasi always too crowded?
Since the streets are already narrow, they tend to get crowded at times. But unless there is a festival or event, they are vacant enough to walk through.
Which street is best for having local Varanasi street food?
If you're looking for Varanasi street food, you can visit Vishwanath Gali or Chowk. Both these places have great local food like Chaat, Bati Chokha, etc.
Are streets easy to navigate through in Varanasi?
Since most streets are narrow and old, they do not have adequate information on popular navigation apps. You can stick to the well-known streets or ask a local to help you find your way.