Famous Places in Varanasi: Stunning Spots For A Cultural Adventure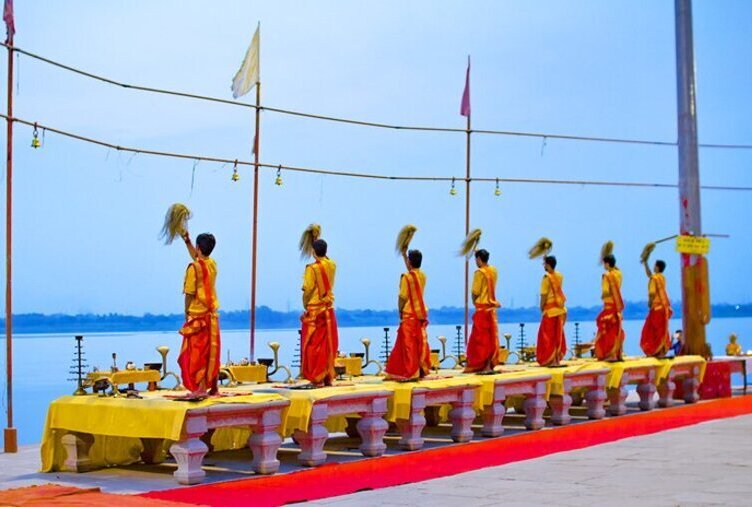 The Most Famous Places In Varanasi To Visit For A Fun Experience Of Varanasi's Culture And History
While visiting the city of Lord Shiva, one can simply not miss the famous places in Varanasi. After all, these places help represent Varanasi's rich cultural heritage. Whether it is religious locations or cultural hubs, Varanasi has them all.
So if you plan a trip to Varanasi, you can take a look at some of the best places in Varanasi. You can visit these popular tourist spots and get a glimpse of the daily lifestyle of people. So without further ado, let us look at the spots to visit in Varanasi for tourists.
Dashashwamdh Ghat
You must have already heard about many ghats, and among those, Dashashwamedh Ghat stands out. Near the Vishwanath Gali area, this ghat is one of the most ideal tourist places in Varanasi.
If you visit Dashashwamedh Ghat, you can enjoy activities like boating, live music, evening aarti, etc. It is one of the oldest ghats and is usually bustling with activity, so it would be an ideal cultural experience.
Activities & Places Nearby
Riverside Restaurants
Live Music And Dance Programs
Boat Rides
Sunset/Sunrise
Street Food Stalls
Also Read: Famous Varanasi Streets Tour: Remnants of The Ancient City
Vishwanath Gali
The Vishwanath Gali is one of the most ancient but well-preserved areas of Varanasi. Hence, it is also one of the famous places in Varanasi according to tourists and locals. If you want to know about the cultural heritage of Varanasi, the streets of Varanasi are best for it.
The best part about Vishwanath Gali is all the delicious street food you can get here. If you want some of the best Chaat, you will get it in the small stalls and shops here. However, the street is usually quite congested and populated, so be prepared for it.
Activities & Places Nearby
Famous Street Food Spots
Kashi Vishwanath Temple
Handicraft Stores
tores For Shopping
Ancient Structures
Also Read: Swarved Mahamandir Dham: Connect with Spirituality and Rediscover Yourself
Assi Ghat
Another one of the most popular places to visit in Banaras, Assi Ghat is perfect for tourists and locals alike. Assi Ghat is a cultural and religious hotspot that people of all ages adore. If you're in Varanasi, you cannot miss the stunning ghat.
In the ghat, apart from activities like boating, you can enjoy the scenery. The ghat is also home to many cultural and artistic events that take place throughout the year. The evening aarti is a highlight and the multiple restaurants are all great for tourists.
Activities & Places Nearby
Scenic restaurants
Boat Rides
Evening Aarti
Performing Arts Events
Street Food Vendors
Sarnath
Farther from the city center than others, Sarnath is undoubtedly one of the best places to visit in Varanasi. The Sarnath area is popular primarily due to its religious background and scenic views. For Buddhists, it is one of the most loved and visited spots in Varanasi.
Plus, there are many aesthetically pleasing monuments and temples unique to Sarnath Varanasi. The architecture and overall vibe of the place are unique and different from other places in Varanasi. So, visiting Sarnath would be a breath of fresh air and fun as well.
Activities & Places Nearby
Japanese, Korean And More Temples
Dhamekh Stupa
Gardens and Public Areas
Local Restaurants
Cycling
Banaras Hindu University
You must be surprised to see an educational institution on this list of famous places in Varanasi. Well, Banaras Hindu University, also known as BHU is one of the most beautiful Varanasi places to visit.
The campus is aesthetically pleasing and the buildings have superior architecture and décor. Since the area is open to people other than students, visitors can stroll through there. Also, great restaurants and food spots are present in and around the campus.
Activities & Places Nearby
College Buildings
Museum
Greenery and Gardens
Restaurants And Street Food Stalls
Cycling
Ramnagar Fort
Holding the rich history of Varanasi in its architecture, the Ramnagar Fort is a monument in Varanasi. The fort is far from the city center but has a beautiful design and scenic location. The fort is one of the oldest places in Varanasi and it is preserved quite well.
Except for the historical importance, the fort area also includes many food stalls in the vicinity. The structure is stark and beautiful, so it is the perfect place to stroll through and discover. Once you're done with the tour, you can step out and have a cool glass of lassi to refresh yourself.
Activities & Places Nearby
Strolling Through The Fort
Museum
Lassi And Other Street Food
River Ganges
Walking Tours
Varanasi Cantonment
Although a cantonment is not a place people commonly visit in another city, Varanasi Cantonment is an ideal place. The cantonment is one of the greenest and cleanest regions in Varanasi. It is also home to some of the best hotels in Varanasi.
The greenery and modern structure of the cantonment is a refreshing contrast to the ancient city's architecture. You can also find high-quality restaurants in the area, although not much street food is available.
Activities & Places Nearby
Luxurious Hotels
Gardens and Greenery
High Rated Restaurants
Malls And Shopping Areas
Sports And Cycling
Deen Dayal Hasthkala Sankul
Deen Dayal Hasthkala Sankul is a newer addition to the list of famous places in Varanasi. Most of the visitors and even locals still don't know about this structure in Varanasi. It is one of the more recently made buildings with stunning designs and features.
The building is very beautifully constructed with the addition of greenery and other modern aspects. Inside, you can find many handicrafts and other shops to find great mementos in. Its design is a wonder, but you can also visit their museum to explore the rich history of Varanasi. It is certainly the best cultural experience and one of the most unique things to do in Varanasi.
Activities & Places Nearby
Handicraft Stores
Saree Shops
Museum
Gardens
Food Court
Conclusion
Banaras has its fair share of unique and stunning locations that tourists love to admire. Though its beauty is different from other places, it is something that you might not find anywhere. Being one of the most ancient cities in the world, Varanasi is home to ancient wonders.
For someone visiting the city for the first time, you can refer to our list of famous places in Varanasi. These are spots that you must visit for a wholesome experience of the city. You could choose from the many religious, historic, and modern places to visit in Varanasi.
Frequently Asked Questions
Are religious places in Varanasi ideal even for non-religious tourists?
Yes, religious places like temples and ghats are enjoyable even for tourists not interested in religion. The architecture, food, and interactive experience are what make these places famous.
Are ghats the most famous places in Varanasi?
Yes, you could say that ghats are the most loved tourist spots in Varanasi since they are very unique. They provide an experience of the River Ganges that not many other cities can provide.
What is the best way to reach tourists spots in the city?
In Varanasi, public transport is perhaps the most convenient way to commute from place to place. However, you could rent a car or contact a travel agency for a guided tour instead.